Welcome to Back to Balance Chiropractic
Your Porterville Chiropractor
Call us at 559-783-2225 today.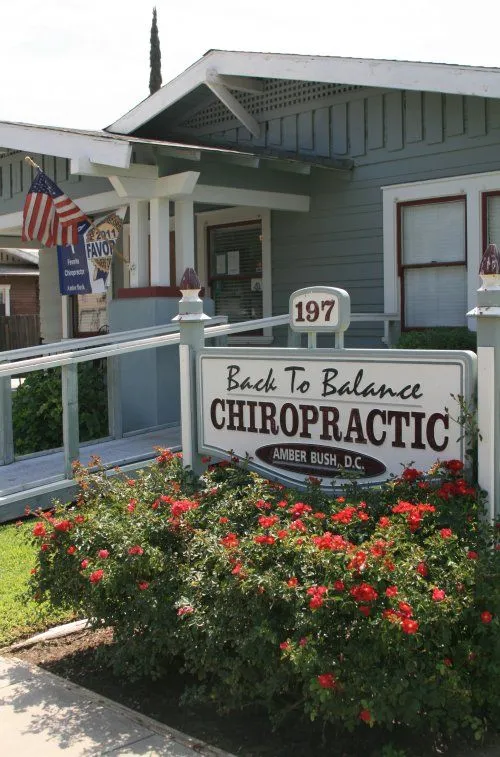 Welcome to the Back to Balance Chiropractic website! Dr. Amber Bush is a Chiropractor that has been serving the Porterville area since January of 2006. She is dedicated to giving you the best care possible and to get you on the road to good health in an efficient and thorough manner.
The practice is equipped with modern chiropractic equipment and technology. Contact Us today and experience the Back to Balance Chiropractic difference!
With years of chiropractic training and nutritional education under her belt she has treated many patients with conditions including whiplash, scoliosis, herniated discs, sciatica and developmental delay. She has had stunning success with these conditions and many others. She has had additional training in the care of Pediatric and Pregnancy care and nutrition. This experience enables her to help with many childhood complaints such as ear aches, infantile colic, bed wetting and TOT including many others along with helping to reduce pain in pregnancy and aid in many pregnancy related complaints. Patients seeking treatment at Back to Balance Chiropractic are assured of receiving only the finest quality care, because Dr. Amber Bush has a genuine concern for your health and well-being.
Our mission is to provide a service for others that teaches that the body has the ability to heal itself without interference encouraging a balanced individual, to offer an alternative health care and become a valuable resource in our communities health education. To provide care for our generations and their future generations to promote a healthier, happier world.
Our chiropractic practice is conveniently located in Porterville off Hwy 65 @ the corner of F St and Cherry St.

Dr. Amber Bush
Porterville Chiropractor | Back to Balance Chiropractic | 559-783-2225
197 W. Cherry Ave.
Porterville, CA 93257